WASHINGTON – Teachers' unions in three other states are now considering following in West Virginia's footsteps after a successful teacher strike there that led to a 5 percent pay hike and improved healthcare options for all public employees.
Disregarding a legal prohibition against strikes, West Virginia teachers mounted a work action beginning Feb. 22 to protest an invasive and costly health care program and chronically low wages.
The teachers were backed by school administrators and local communities. While West Virginia does not have collective bargaining rights or a right to strike, the local support meant students walked picket lines with teachers, and superintendents in all 55 counties closed schools every day for seven days in support of the teachers.
This prevented the walkouts from turning into an actual strike, which would have been illegal for teachers to perform in West Virginia. A work action is a unified attempt by employees to achieve a desired outcome, without resorting to strike measures. The superintendents closing schools made this a work action rather than a strike; in this way, the teachers did not lose pay and the lost days will be made up at the end of the year.
According to media reports out of Oklahoma, Kentucky and Arizona, those three states' teachers are also considering work actions similar to those performed in West Virginia in order to solve contract grievances. Oklahoma has even set its strike date for early next month, should its demands for pay increases not be met.
Three-fifths of the states – including Arizona, Kentucky, Oklahoma and West Virginia — legally prohibit teachers' strikes, but not to perform work actions.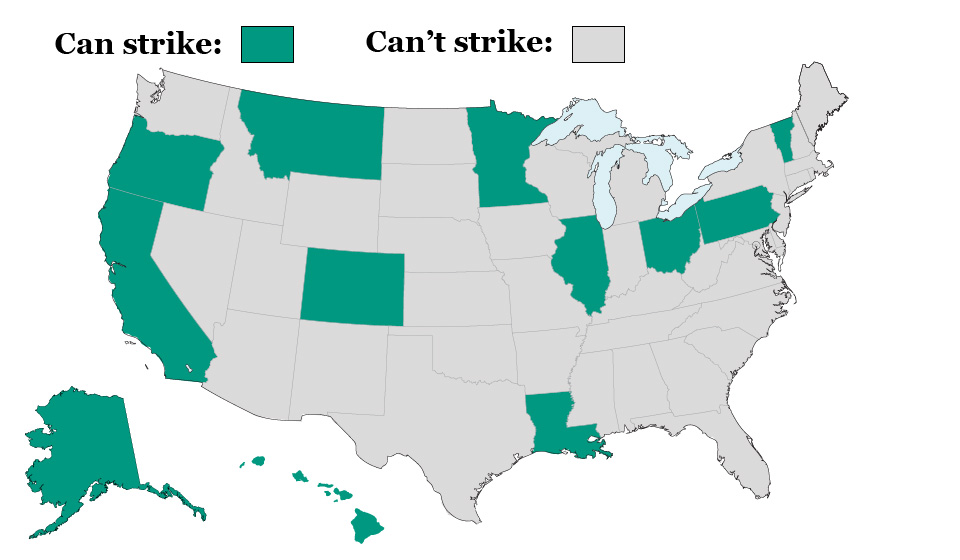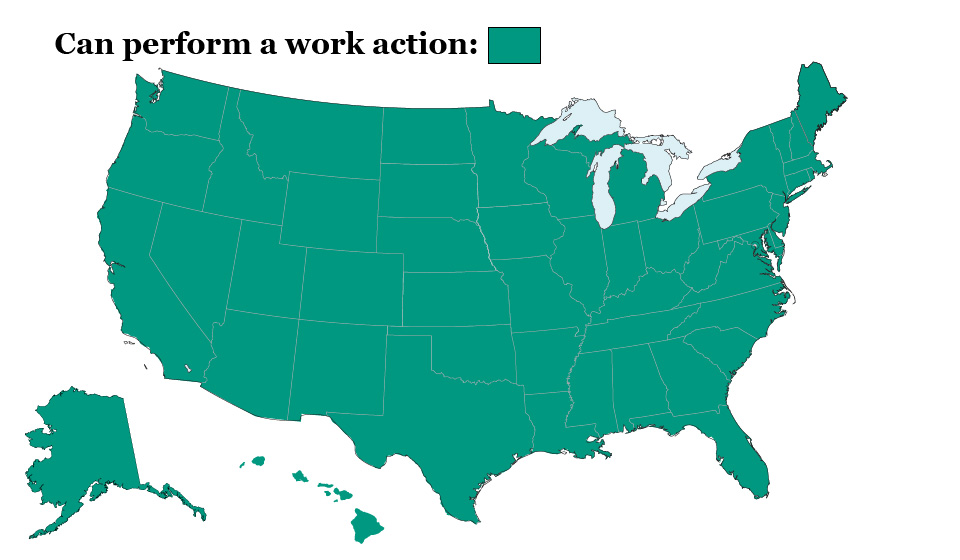 "West Virginia teachers walked out — and they make more than us," said a teacher at a school board meeting Feb. 28 in Bartlesville, Oklahoma, that was streamed by the local paper, the Examiner-Enterprise. He pushed for a strike, as did a number of other teachers.
"Our school communities are desperate for change, because we know what's at stake here," said Oklahoma Education Association president Alicia Priest in a Facebook video Wednesday. She called for lawmakers to pass a budget with pay raises for teachers and program cuts restored by April 1, or, she said, they would face a strike on April 2.
Oklahoma is 50th in the nation in teacher pay. Public -school educators have gone a decade without a state-funded raise and have seen cost-saving measures enacted that have severely hindered their abilities to teach their students, teachers and their union say.
"We will not allow lawmakers to shortchange our teachers, our students, and our support professionals anymore," Priest said.
According to a table provided by the National Education Association (NEA), last updated in August 2017, it is illegal for teachers to strike in 38 states). This leaves work actions as the only way forward for educators in the vast majority of states unless they are prepared to face arrest.
Work actions such as those seen in West Virginia, however, are difficult to implement, given that it takes the coordination of not only teachers but also superintendents, boards of education and community members.
American Federation of Teachers president Randi Weingarten said that while both strikes and work actions should be a last resort for teachers, they are necessary leverage at times, even if teachers may face arrest.
"When deprivation gets so great, you're pushed so far, and you have no other way of resolving what is a righteous issue, an issue of public safety, then strikes may be the only alternative," Weingarten said in an interview.
"In this instance, the teachers and service personnel . . . tried over and over again. The organizing over the pay increases didn't just happen on Feb. 21, the day before the strike. It happened for months beforehand, this year, and last year, and the year before, to no avail," said Weingarten.
"I'm not suggesting that strikes are used as anything but a last resort, but they are a last resort."
Priest echoed Weingarten's message Thursday, in a press conference where teachers, superintendents and community leaders spoke in support of a potential teacher work action.
"We do not want to leave our classrooms and come to the capital ," she said. "But we will."