WASHINGTON — At the end of almost every weekday, Sarah Hilmer drives 40 minutes from her Silicon Valley communications job to her home in Belmont, California, for three hours of mommy-and-daughter time. The new mom routinely uses those hours for a family run with 21-month-old Annie, accompanied by Hans, the handsome family Weimaraner.
Hilmer describes her daughter as "determined" — a trait that must run in the family. The communications professional has developed an impressive work-life balance as she gears up to start a part-time MBA program at the University of California-Berkeley, on top of her full-time job.
Her success can be credited to workplace flexibility and a supportive husband who works part-time, she said. That same flexibility was essential for a smooth transition back into the workplace after giving birth to her daughter in September 2016.
Almost two years ago, Hilmer was recovering from a home birth gone awry. She had a healthy delivery but began hemorrhaging six hours later. She was rushed to the hospital and required a blood transfusion: "My recovery from the actual childbirth was really hard…nursing was really hard, I was really tired."
She was grateful for the family leave policies that provided ample time for her recovery. By combining her employer's policy, disability insurance and California's paid family leave policy, she had 11 weeks partially paid leave in addition to three weeks of unpaid leave.
Hilmer said she could not imagine returning to work any sooner: "To also ask a woman to pick up and go back to work is too much."
But her experience is not typical for women having babies in the United States.
The U.S. is the only developed nation without mandatory paid maternity leave, according to a recent World Bank Group report. In fact, the U.S. is among just seven economies that don't offer paid leave. Those economies include the Marshall Islands, Papua New Guinea, Tonga, Suriname and the Federated States of Micronesia.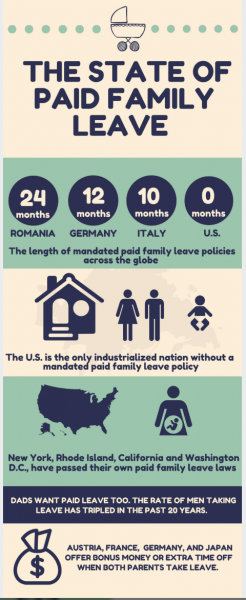 U.S. mothers and their families are offered some protection by the Family and Medical Leave Act, which provides 12 weeks unpaid leave for eligible employees.
"The U.S. is very far behind," according to Ariane Hegewisch, an employment and earnings expert at the Institute for Women's Policy Research.
So why doesn't the United States, a leader in the global economy, have a more progressive family leave policy? Partisan politics and devaluing women are to blame, according to employment and gender studies experts.
Federally mandated policies fall under suspicion in U.S. politics, according to Hegewisch. Therefore, the issue of a federally mandated paid leave becomes controversial and partisan, she said.
When asked if family leave could be considered a bipartisan issue, Hegewisch said: "If it was a bipartisan issue, we would have it."
"There's a sense that…individual families should be sorting this out," she said. "It's part of the political and lobbying culture that things [that] should not be controversial, can be very controversial."
Because companies aren't required to provide paid family leave, women are still forced to make a choice between career and motherhood, according to gender studies expert and Saint Mary's College Associate Professor Terri Russ.
Having children operates as a penalty in the American workplace, according to Russ. Women are forced to bear the costs of having children in the U.S., she said: "It's about who do we say should bear that cost. And right now we're saying that the cost needs to bore by women and children."
"As women our destiny is supposed to be to create families. This is only something that we can do," she said. "But then there's no support in place."