WASHINGTON— The nation's capital erupted in jubilation at the announcement of Joe Biden's victory over President Donald Trump on Saturday as thousands of Biden supporters poured into the streets to breathe a sigh of relief after five days of tense vote counting.
Within minutes of CNN's announcement naming Biden the victor of Election 2020 – followed by announcements from all other media organizations, the cheers and honking cars that could be heard throughout Washington brought the news to many residents. Biden took the race by securing a win in his home state of Pennsylvania, pushing his electoral college vote count over the 270 mark needed to become the 46th president of the U.S.
Americans of all ages gathered in Black Lives Matter Plaza in front of the White House immediately following the announcement, cracking open bottles of champagne, dancing to music, excited to share the moment. Here is why they came out:
Susan Benesch, 56, and her daughter, 1 year
 "I am so relieved," Susan Benesch said. "I miss my country, I love her. And now I feel that she is more mine than I've felt in quite a while." Benesch was happy that she'd be able to tell her daughter that they had been in front of the White House at Black Lives Matter Plaza at this historic moment.
---
Jacqueline Clark, 57
"When they called it, I felt like there was something lifted off of me— I felt like I am finally free," said Jacqueline Clark, who was cheering in Black Lives Matter Plaza with her husband. "I'm free of the bigotry, discrimination, racism, and I just felt like I just needed to be here, because everybody counts… and I want to be a part of that."
"I am so excited to be a part of this, to be a part of history," she continued. "I look forward to reading the history books about how all of this happened, that we live in a country where people embrace diversity and would elect an African American woman as the vice president," she said. "That means that they trust that she can make a difference, and that she will lead us in the right direction. I am so happy because Black women are awesome—I'm happy to be one of them."
---
Kevin Clark, 57
"Oh, this is just incredible. It's just a warm feeling. It's about time that we unite and come together black, white—I don't care what color you are," said Kevin Clark, while raising his hands in the air beside his wife. "It's important that we come together and make this United States more beautiful than it was in the past."
"You could feel the energy and the level of people with this spirit, this high," said Clark, describing the crowd. "It's history in the District of Columbia. I came out just to feel the feeling, to meet the people, to look at the people so that I can I can feel it in my heart." He laughed before adding, "And to tell Trump, 'We'll see you later!'
---
Chris and Sasha Davis
"This is democracy in the making. You just can't miss this—it's time for Donald Trump to go," said Chris Davis, a lawyer, who was celebrating with his daughter. "And if he needs help moving, the American people have his back," he said, pointing to his sign, which listed moving companies' phone numbers.
Sasha Davis, his daughter, is an English teacher who said she felt like she had to join the celebration because this was "why we study and why we learn to read and write and talk and be respectful and share our voices and critique people around us'" she said. "You got to come out, and you've got to show it. I'm taking pictures, all of the other teachers on my team are taking pictures, and we're revamping our lessons for next week to talk exactly about what my dad said: 'Democracy at play'."
---
Philipos Melaku-Bello, 50s
Activist Philipos Melaku-Bello has been protesting for human rights and world peace in front of the White House for 39 years. He was happy with the election results but careful not to see it as a total win.
"I'm rejoicing with the knowledge that something's coming," he said. "I don't want to return to a monarchy… but DC is proof and evidence that taxation without representation is actually legal to do in the United States of America."
---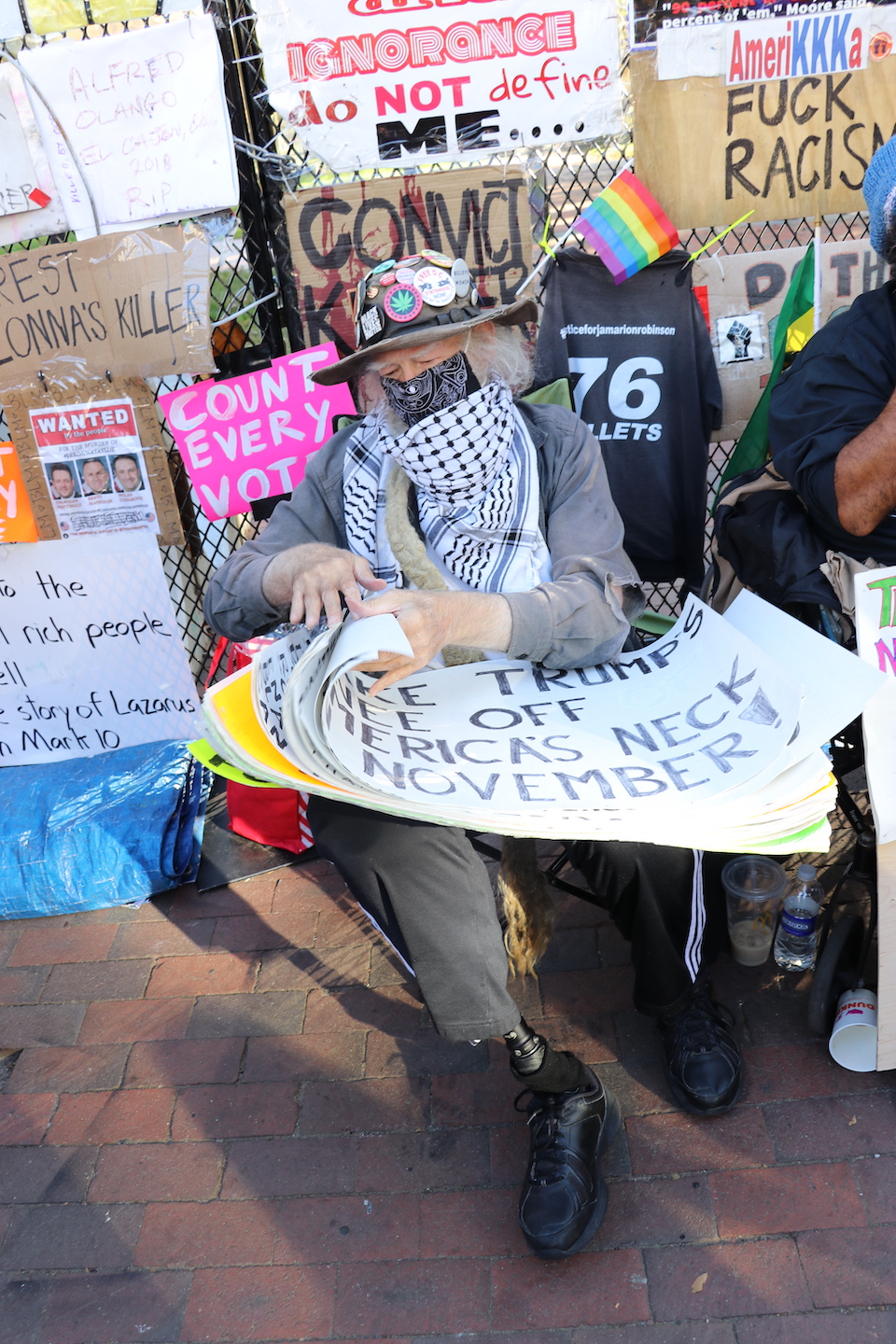 Cliff Smith, 81
"I've come out two or three times a week for the last six years, but today I'm coming in celebration," said Cliff Smith, retired D.C. resident with a stack of at least 50 posters in his lap, ready to be waved.
"It's a beautiful, beautiful day, it's a great day for America," he said, adding that "the only fear I have, and I don't think it'll work, is that legally, state legislators can take the power away from the people of their state, and choose the electors themselves."
---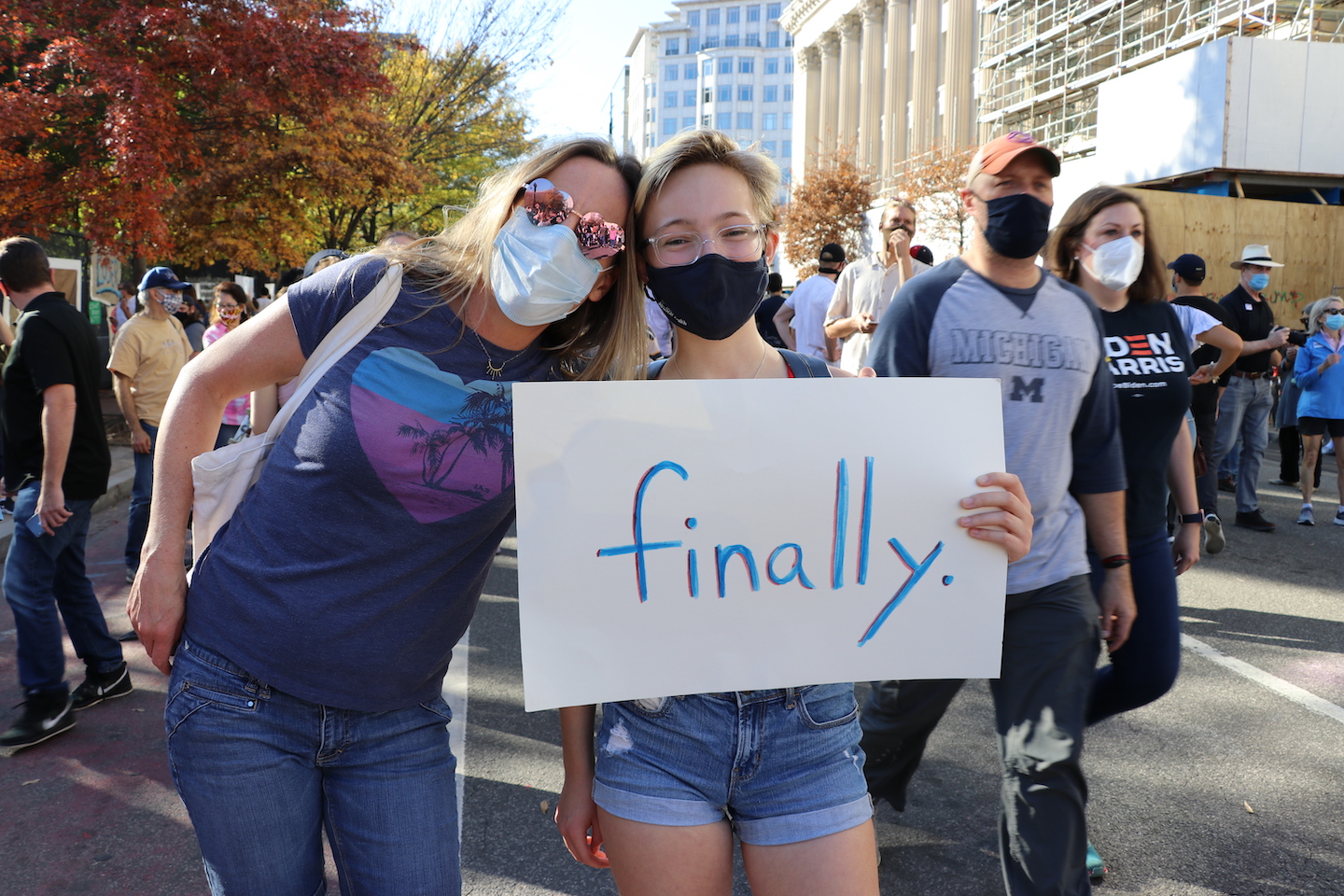 Jennifer, 51, and Georgia, 15,  Bardi
"I am for climate change, activism. His policies don't align with mine in any way," Georgia Bardi said of Trump. Despite being a student who is too young to vote, she came out with parents and a young sister because she said politics have always been important to her. "Also, I don't like him," she added. "He's a bad person. He's racist, he's xenophobic. I don't stand for him at all."
"I am elated," said Georgia's mother, Jennifer Bardi. "I know that there's a long road ahead in terms of actually getting the Senate.. … But today, I just want to blow off steam and celebrate with all these beautiful people."
---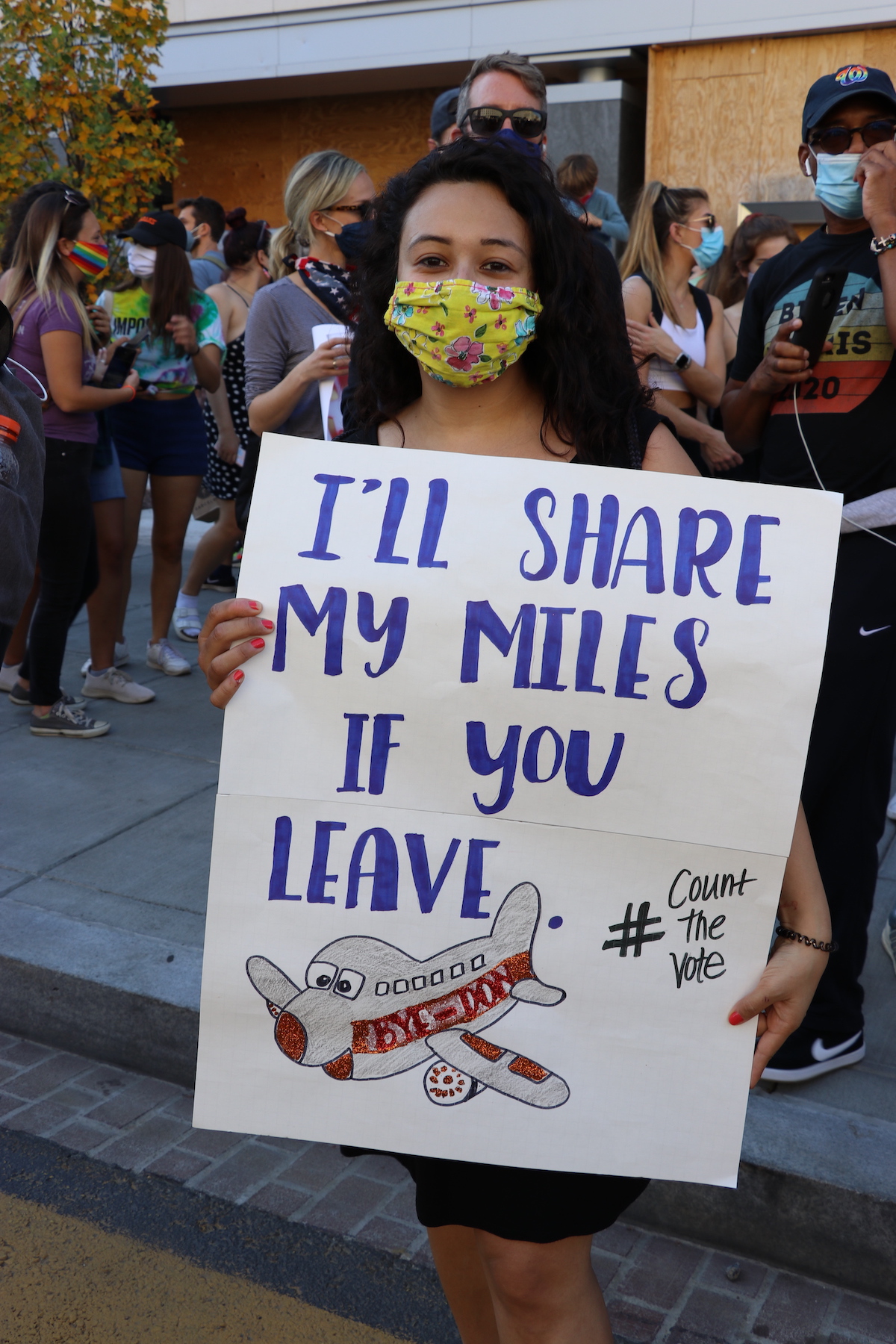 Silvia Fabela, 36
"It's been four years since I have felt joy and hope about where we can go in the world and feel safe," said Mexican-American Silvia Fabela before talking specifically about the impact of Trump on the Latinx community. Under Biden, she said, "People I care about will have the freedom to be who they are and really have the freedom to thrive and stay or move."
---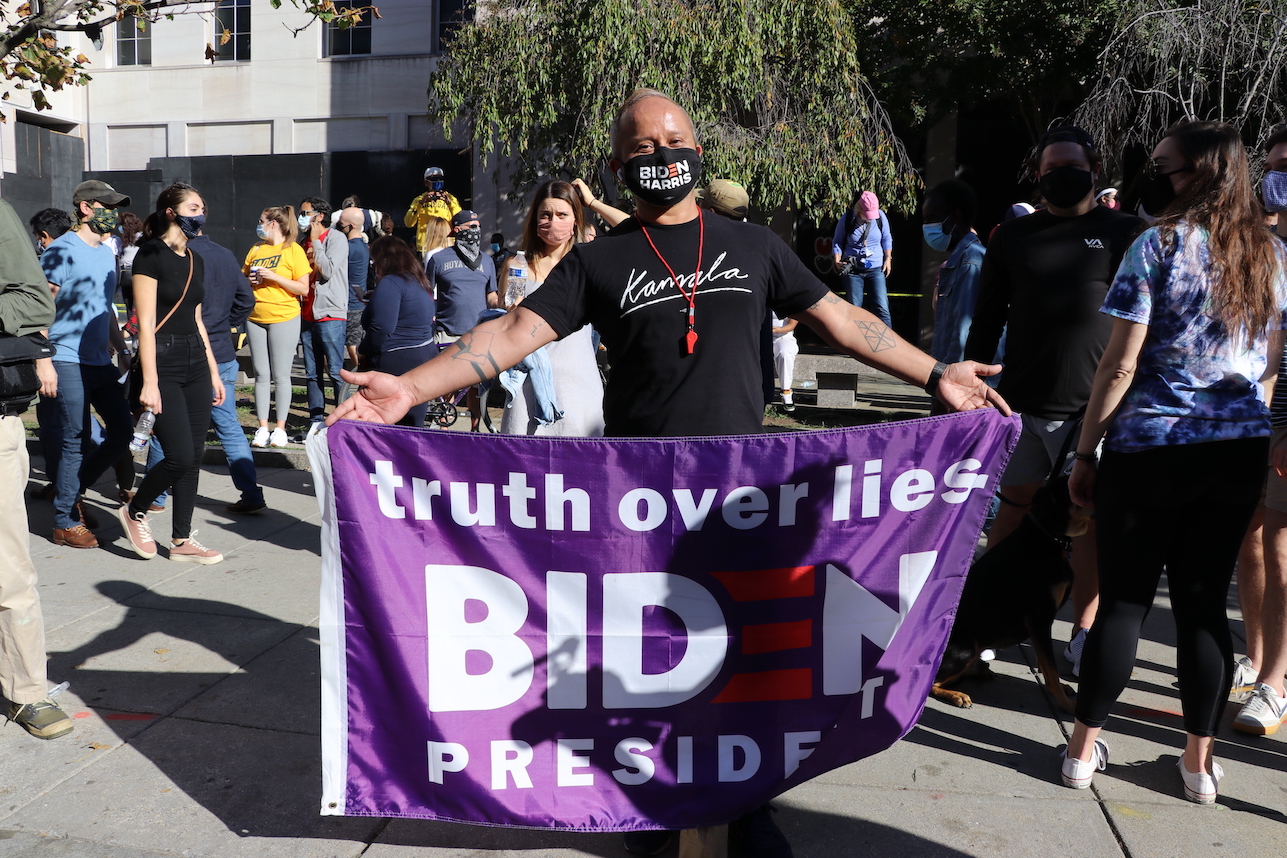 Jessie Singh, 42
"I'm celebrating democracy," said Jessie Singh from behind a huge purple Biden banner. He said he didn't sleep much between Election Day and the Biden win announcement on Saturday, "but it was worth it because I've invested so much personal time and money to make sure (Trump) never gets an office again. So I'm glad that he's gonna be gone in less than 100 days," he said. "I believe in America."
---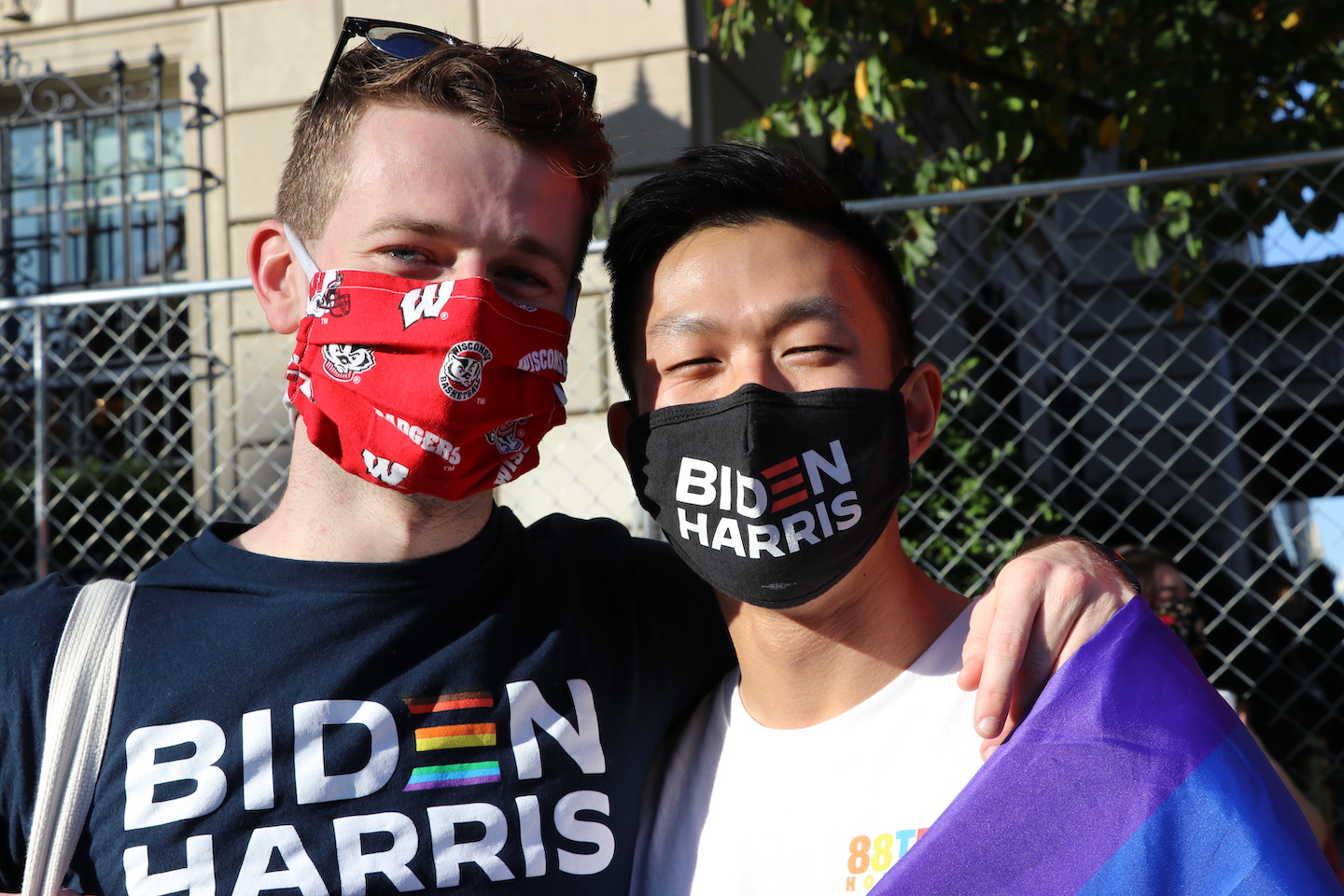 Zach Levene (left), 22, and Aaron Huang, 25
Aaron Huang and Zach Levene had tears in their eyes as they tried to put their elation at the news of Biden's win into words. "I don't think I've ever been this happy in my life—I think this is what jubilee means…," Huang said. "When we found out about the news, I felt like I was flying, like all this weight that I didn't realize I had just came off."
The two were excited about what this meant for the future of the country, noting that this shows the world "who we are—it's not what it was the past four years. We're Americans, we believe in all of these values," Huang said. "We're back."