WASHINGTON — Nearly three-quarters of United States senators have made Twitter comments or statements on abortion in the 24 hours following Wednesday's Supreme Court oral arguments in Dobbs v. Jackson Women's Health Organization.
The Dobbs case examines the constitutionality of a Mississippi abortion law that bans the procedure after 15 weeks of pregnancy. If the court finds that the ban is constitutional, it would reverse existing abortion legislation precedent like the right to pre-fetal viability abortion established in Roe v. Wade.
Looking at tweets that made reference to Dobbs, Roe, a Justice's comment, abortion or life, just 9 of the 48 Democratic senators haven't yet commented on the issue, compared to 21 of 50 Republicans. Of the two Independent senators, Angus King from Maine has also not released a statement, while Bernie Sanders from Vermont has.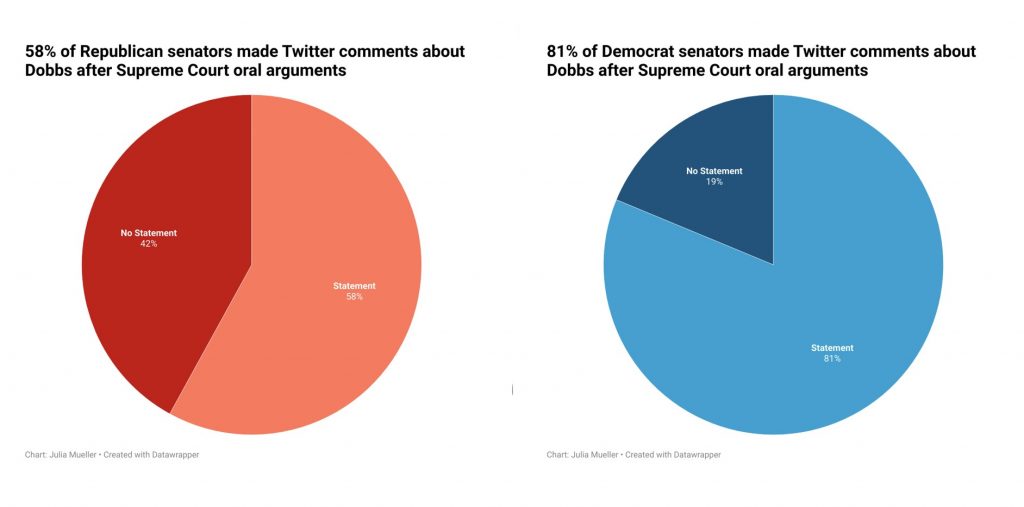 Senators from both parties tweeted statements or comments that took ostensible sides on the issue. Two senators — Brian Schatz, D-Hawaii, and Bill Cassidy, R-La. — used only retweets to make their stances known, while the rest wrote original tweets or posted original videos addressing their constituents.
And the statements were split along party lines: Democrats tweeted in support of Roe precedent, made reference to the constitutionality of abortion and referred to the medical procedure as health care. 
"A woman's right to choose has been upheld by the Supreme Court time and time again," wrote Sen. Dianne Feinstein, D-Calif. "This case regarding a blatantly unconstitutional Mississippi abortion law should be no different. The court needs to strike down this law and uphold the rights Roe guaranteed."
Self-identified "pro-choice pastor" Sen. Raphael Warnock, D-Ga., wrote that "health care decisions should be between a patient and their provider—not politicians." Warnock called the Dobbs case an attempt "to endanger access to critical health care."
Republicans, on the other hand, tweeted that Roe should be overturned, made reference to religious values and used the hashtags "#EmpowerWomenPromoteLife" and "#ModernizeOurLaw."
"Every life is valuable," wrote Sen. Tim Scott, R-S.C. "As a lawmaker and a Christian, I'm standing for every American—born and unborn."
Sen. Josh Hawley, R-Mo., wrote after listening to the Dobbs arguments that "this could be the case that finally reverses the great injustice of Roe. It may all come down to Amy Barrett."
Both parties made significant reference to the idea of protection — Republicans urging the protection of unborn lives and Democrats urging the protection of women and existing precedent.
Several Democrat senators urged the Senate to pass the 2021 Women's Health Protection Act (WHPA), which passed the House 218-211 in late September of this year. The legislation would federally protect the right to abortion and counter a Supreme Court ruling on Dobbs.
"With #RoeVWade under attack, the Senate must pass the Women's Health Protection Act to ensure that everyone has access to safe, legal abortions," wrote Sen. Michael Bennet, D-Colorado.
Legislation on women's issues has noticeably stalled in the Senate, where Republicans outnumber Democrats 50 to 48 — though the house was able to push bills like WHPA and the Violence Against Women Act (VAWA) with eight more Democrats than Republicans.
The Supreme Court is expected to rule on Dobbs by June 2022. Two other abortion cases — Whole Women's Health v. Jackson and United States v. Texas — are also pending Supreme Court adjudication.
**Data gathered 12-1pm Eastern 11/2/21. Senators' official/press and campaign/unofficial Twitter accounts were both evaluated. Tweets sampled from each Senator are not necessarily the only tweet made by that lawmaker on the issue.
Senators react to SCOTUS abortion case | Senators react to SCOTUS abortion case