WASHINGTON — The Ice Bucket Challenge that soaked the nation last summer is back.
In 2014, the campaign became a global phenomenon and raised $220 million for ALS patients and research. On Friday, advocates and ALS research organizations will kick off the 2015 Ice Bucket Challenge, which begins officially on Aug. 1.
"We are doing it again," said Karen Spinelli, director of the ALS Regional Center at St. Peter's Hospital in Albany. "We are so grateful for the donations last year and the support for ALS patients in this area."
Kathie DeCarr, senior secretary at the ALS Center, said the hospital received direct donations of more than $60,000 associated with the Ice Bucket Challenge in 2014. .
The Ice Bucket Challenge went viral last year. It ranked No.6 in Google's top searches. To accept the challenge, upload a video of yourself dumping a bucket of ice water on your head, and nominate three friends to do it as well. The purpose of the challenge is to promote awareness of the disease Amyotrophic lateral sclerosis – ALS.
ALS, more commonly referred to as Lou Gehrig's disease, is a progressive neurodegenerative disease that attacks nerve cells and pathways in the brain and spinal cord. ALS patients suffer from muscle atrophy and voice slur, and they might be completely paralyzed in later stages.
Pat Quinn, of Yonkers, New York, and Pete Frates, of Beverly, Massachusetts, created the Ice Bucket Challenge to raise awareness of the disease. A good drenching with ice water temporarily shocks the senses and, of course, is hilarious to watch.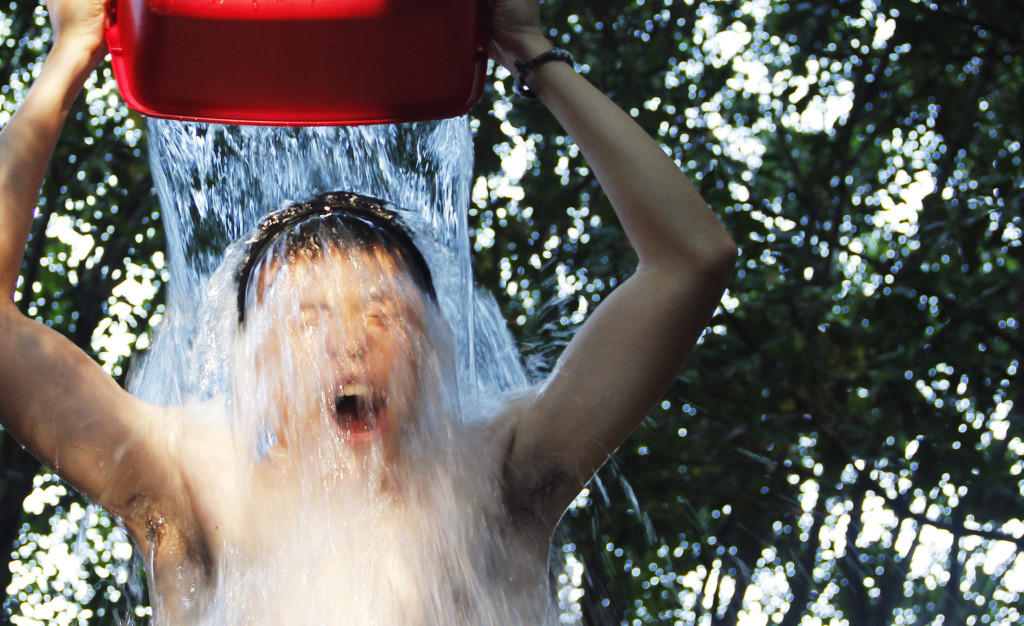 Quinn was diagnosed with the disease in 2013. "It takes away your muscles but doesn't take your mind," he said in a telephone interview. "I actually feel my mind is getting a lot stronger."
Quinn went to a doctor when he felt his left arm still twitching a few days after he played softball. "I never imagined the day I would not be able to shoot a basketball, or tie my own sneakers, but that day has come," he wrote for his ALS project, Quinn For The Win. "I am a fighter and remain positive even through this difficult time."
Soon after he was diagnosed in 2013, Quinn got out of the shadow and started looking online for what other ALS patients had done. That's how he connected with Frates, a former Boston College baseball player who was diagnosed with the disease a year earlier.
"He was pretty much doing everything in my head that I wanted to do. Be public, be an advocate, talk to people, talk to hospitals." The two became friends after they met in person, then, because of their network within the ALS community, the Ice Bucket Challenge spread to Boston.
"Once it hit Boston, because of Pete's athletic background and sports, a lot of athletes in the area started doing it, and that's when it really took off."
According to the ALS Association, a Washington-based non-profit, more than 17 million videos of people taking the challenge were posted on Facebook and watched millions of times last year. Challengers include Hugh Jackman, LeBron James, Bill Gates, and many more.
But fun as the Ice Bucket Challenge seems to be, the disease is deadly serious.
"My arms are very, very skinny compared to what they used to be, my hands are very weak, the muscles are contracting," said Quinn. "For my legs, more recently maybe in less than a month, they've become a little shaky, less balanced, and I have to be very careful with the steps I take, there is no more active physical activity."
Quinn's father feeds him and takes him to speaking events during the day, and his wife takes care of him at night. "I'm very lucky to have my family and friends supporting me so much," said Quinn.
Quinn now gives speeches and attends meetings in New York and many other states to raise awareness of ALS. Many other individuals and organizations have joined him.
This summer, the ALS Association disclosed that $115 million raised from the Ice Bucket Challenge in 2014 has been budgeted for ALS research and patient care.
The organization said 30,000 Americans may be currently affected by ALS, but there is no cure and no life-prolonging treatments for the disease. The average life expectancy of an ALS patient after diagnosis is two to five years.
However, with recent advances in research and improved medical care, data provided by the organization show that half of all those affected live at least three years or more after diagnosis. About 20 percent live five years or more, and up to ten percent will survive more than ten years.
"Time is very, very important for me," said Quinn. "I want to get value in every day I can to make a difference." Quinn hopes advocates can keep raising money for "more research, more patient care and more everything for the ALS community."
In Albany, Melissa Morrison, who's in charge of fundraising at the ALS Center, said it will launch on Friday through e-letters and the social media platform — Constant Contact. The ALS Center at St. Peter's also encourages people to accept the challenge in a lake or pool to help save and recycle water — or to simply to make donations.
"Our thought is to not let the ice melt," she said. "We are hoping that in the heat of summer, people won't forget ALS."
For more information on ALS and the Ice Bucket Challenge:
St. Peter's Health Partners ALS Regional Center: http://www.sphcs.org/alsregionalcenter
ALS Association partners: http://www.alsicebucketchallenge.org/donate.html
Co-founder Pat Quinn's project, Quinn for the Win: http://room3606.com/q4tw/
Co-founder Pete Frates' project, Pete Frates #3 Fund: http://petefrates.com/
---
Published in conjunction with