WASHINGTON — Nearly two thirds of Americans were willing to provide weapons to support the Ukrainian military, while only one-fifth wanted to send troops to Ukraine, according to a recent public opinion survey by Ipsos, a multinational market research firm headquartered in Paris. 
"Ukraine and president (Volodymyr) Zelenskyy are extremely credible at this point in the United States," Clifford Young, president of U.S. public affairs of Ipsos said at a January conference in Washington, D.C.
But U.S. public support for Ukraine has declined with time. At the beginning of the Russia-Ukraine war, high levels of both Republicans and Democrats supported Ukraine. Americans' attention to this issue spiked in March, 2022, and then quickly declined from 17% to 3% after, according to Ipsos's report. Over the next six months, Democrats' support dropped slightly while support for the war among Republicans decreased from 80% to 55%.
These findings were part of a broad effort by Ipsos to understand global public opinion about the war in Ukraine. Ipsos surveyed 19,003 adults under the age of 75 in 29 countries around the globe between November 25 to December 9, 2022. They released the data in late January.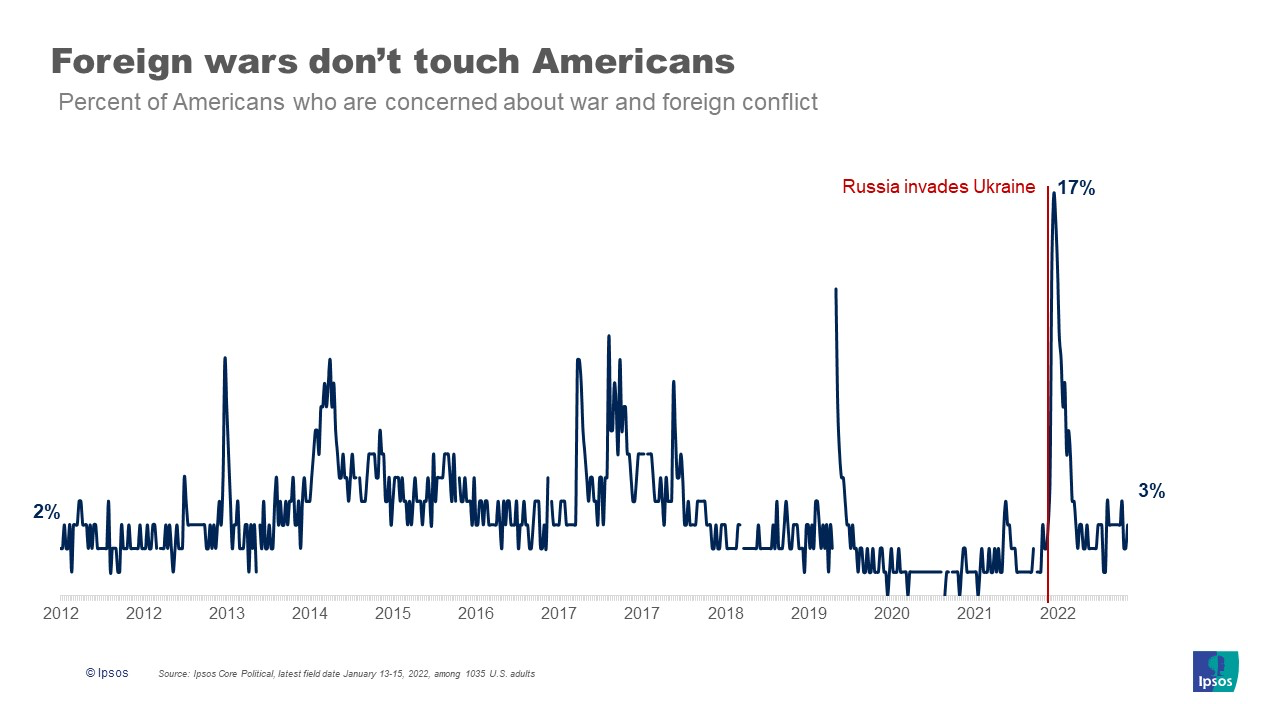 According to the survey, three out of four Americans feared that their country would be drawn into an armed conflict with another nation in the next year, ranking third in 29 countries. The majority of Americans said they were confident that their government can protect them when asked: "How confident are you that the appropriate levels of security and protection could be provided by your government could respond effectively? " 
Argentina, Hungary and Peru are three countries that had the least confidence in their government's ability to respond.
Public opinions vary around the world when it comes to involvement in the war in Ukraine.
People in Great Britain and the Netherlands were the likeliest to want to restrict Russian oil and gas imports and take in Ukrainian refugees. 
But in Hungary, 85% of people said they wanted to stay out of the war, ranking highest on this question. Nearly three-fifths of Hungarians opposed sanctions against Russia. A similar percentage of Hungarians said that Russia will not expand its military actions to the rest of Europe or Asia. The result of the poll seemed consistent with Hungarian diplomats. On Jan 17, Hungary's foreign minister Péter Szijjártó told CNBC that "Russia's economy is not on its knees." He said European sanctions hurt Europe more than Russia.
When it comes to Russia, its aggression against Ukraine has harmed its reputation in much of the world. From 2021 to 2022, the positive views of Russia dropped sharply from 45% to 29%, across the 29 countries surveyed by Ipsos. Meanwhile, the reputations of NATO and Great Britain improved 5% this year.
The positivity rating for the United States remained about the same. It had hovered around 64% for years, but then dropped to as low as 50% when President Trump was in office. It rebounded after he left. 
However, in general, war was not a top priority all over the world. In most of the world, inflation, poverty and crime were the three top concerns on people's minds.
Foreign policy is a secondary issue for Americans, said Young. "It can pop up once in a while and it sort of reverts back to status quo ante."